Cream Pumpkin Soup
Use equipment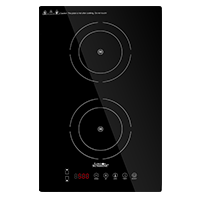 Instructions
Step One
Prepare a small pumpkin, wash it and remove the seeds and skin. Heat the steamer for 20 minutes


Step Two
Cut into large pieces and put into a blender. Add 400ml of milk and beat into a milkshake shape.


Step Three
The entire process of induction cooktop is low fire,Prepare a pot and put in 2 cloves of garlic chopped, 2 slices of onions chopped, 3 slices of ham chopped.Add another 100ml of light cream, boil until it bubbles, and season with 2g of salt.


Step Four
Dish and garnish with a few drops of light cream. Sprinkle chopped parsley and basil. Simple and delicious!